Click to read my very first flea experience at Scape
Here we are at Scape Level 4 for the second time to earn some extra money and at the same time clear our piles of pre-loved clothes and unused beauty products. This time round was sharing the stall with Steph and Jas. Twinny just had another round of flea the week before ours. With 3 people sharing the cost of 1 stall ($55), it's definitely easier to recover the cost price and earn more profit!
Based on my first experience, since many "choped" the stalls way before the official 1pm start time, Steph and Jas went earlier to get a good stall location. We still like the previous location we had and were lucky to get our favorite spot, the best part was that we had an empty stall beside us and we sort of occupy it like ours. I hope the organizer don't see this post :X
As usual, Love brought his rack over for us and we were so lucky that his rack is very steady pom pi pi because the rack from the stall beside us kept giving way and poor Jas was hit by it not once, but umpteen times. 3 of us were very enthusiastic in selling away our products, but right after knowing that we have recovered our cost price and earned some profit, we slacked all the way till the end. 3 persons sharing the cost of the stall really puts us in much more relaxed mode.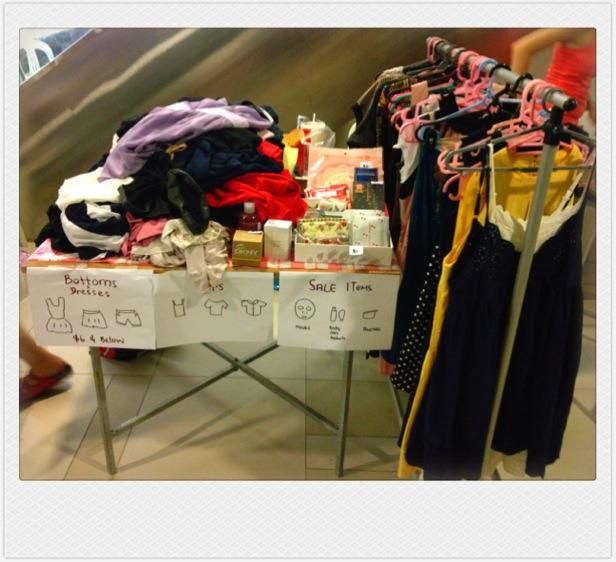 As you can see, i was too busy slacking away till i did not took any photos (all photos were grabbed from the girls' Facebook) haha! The day ended happily with all of us earning some good money. I had a profit of more than $60, too slack that i don't really bother to count haha! Jas earned more than a hundred bucks! This time round i didn't sold as much quantity of clothes, and yet earned almost the same amount as previously, that's because i insisted of not selling my clothes at too dirt cheap prices. Lowest at $3 each, previously could be as low as $1! It seems like i'm getting the hang of selling? muahaha!
I can now proudly cross off one of my resolution item – Organize at least 1 mini flea / booth to sell away clothes and earn at least $100 profit! Since my flea experience is a success, I'll be considering to do at least 2 fleas each year, look out for my next flea next year!