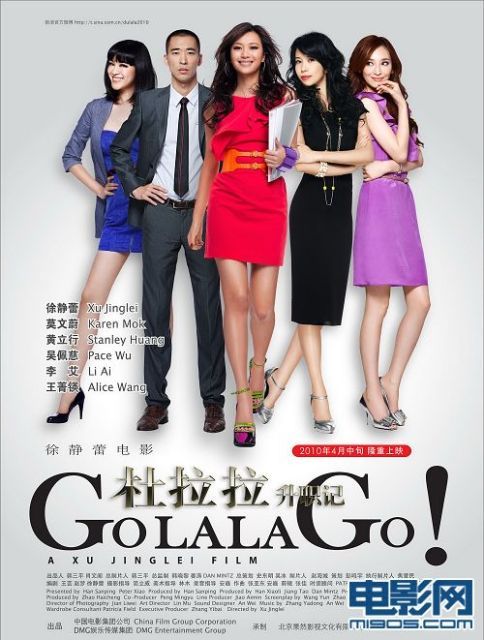 I think there are a few versions of this 杜拉拉升职记, the version i watched was the movie version starring Karen Mok and Stanley.
There's also another drama series version which Channel U is showing on, but the story line is slightly different and a different cast of actors.
View the drama series here http://tv.sohu.com/s2011/dulala/
Personally, after watching the first few minutes of both versions, i felt that the movie version is nicer as it's more down to earth realistic, while the drama series is more exaggerated, but story line is still practical. Therefore, i continued to finish up the movie version, probably when i have more time, i'll watch the drama series.
It's a real life story about a woman, LaLa in her late twenties who finally manages to land a job as a lowly secretary in the sales department of a prestigious international firm. Hard working, dedicated, and overflowing with ideas and energy, she quickly catches the eye of her superiors, in particular that of sales director. Lala's efforts pay off as she rises quickly up the corporate ladder, and even manages to win the notoriously tough and grumpy man's heart in the process.
You must be thinking "It's another love drama again", but to me, it's more than just a love story. It's the real life working experience which us (young working adults) are facing these days, office politics and survival skills.
Few interesting points:
要把每一家的优势、劣势、信誉和风险分析之后,让我做出决定。不要给我没加工过的资料。
Consider each company's advantages, disadvantages, reputation, risk. Analyze them and bring me the final decision. Don't give me these unprocessed files.
— This sentence was said by the boss to her employee when the employee just compiled a list of contractors for her. When i heard this, i was like woah! 一针见血 Salute! Sometimes you really need to tell your people bluntly for them to learn, they might hate you, but i believe this is the way to make them grow.
玫瑰 (boss of LaLa) 虽然严厉,但她是一个好老板,好老板的标志就是能从她身上学到东西。而好员工的标志就是——和领导保持高度。
When scolded by your boss, it's ok. Learn to disinguish his/her needs and what decisions require your full completion.
— yeah, it all boils down to the attitude and positivity of you.
如何让老板重视你?不仅要做好,而且要展示的好。你不努力,你很悲惨。你很努力,但不会适当展示,你一样很悲惨。
How to keep the boss appreciating you? You can't just work effectively, but also must show your potential. If you don't work hard, you'll get nowhere. If you do work hard and don't show your talents, you'll still get nowhere.
— i totally agree on this, still trying hard on "showing your talents" part, which i hate. >.<
P/S: copied these from here, although the English translation doesn't really translate exactly, but the rough meaning is there and i'm too lazy to translate in my own words =X