Not sure exactly since when, but it was in recent months, that i realized that my hair fall amount is getting significant. My hair volume isn't much to begin with and that explains why it's getting scarier when each time i run my hand through my hair, there's bound to be a few strands of hair and sometimes it's more than 5 strands?! Not sure if i'm paranoid, but it wasn't like this before. Not that i noticed of.
I thought probably because my hair was getting longer, so the heavy weight might explain the hair fall, so i chopped off my hair to shoulder length. But nope, the hair fall still continues.
It didn't help that the hair scalp was itchy with bumps that seems like pimples with pus AND my face complexion was horrible during that period, so Love gets to hear my low self confidence complaints each time i looked into the mirror or strands of hair fall.
I tried one of the clinic at National Skin Centre for both my acne and hair loss problem, the doctor just told me that i'm facing "female pattern hair loss", gave me a Growell Minoxidil 5% spray for the hair and Nimegen capsules (3 months supply) for my face acne. That one session of consultation cost me $330! Goodness, worse is when i tried googling "Nimegen", it seems like there quite alot of potential side effects.

Love persuaded me not to consume the Nimegen and recommended me to a clinic where he got his acne problem solved during his teenage years. That clinic works! The doctor even told me that my condition does not need to consume any medication. Well, i shall leave that for another blog post.
Back to my hair, i did tried out the Minoxidil for a week or two, but it seems like my scalp is still as itchy, so i stopped using it. Sounds like my $330 has gone to a waste, sigh.
Went to a few salons for hair cut and some hairdresser recommended scalp treatment to better improve the condition of my oily hair, preventing hair loss. I didn't try it out at the hair salons because a scalp treatment usually cost hundreds and it needs to be done at least monthly to see the results. I thought that's too high of a maintenance for me plus chemicals are used, so i'm not sure if it would do any harm in the long run.
I searched online for solutions, tried changing different hair fall shampoo and conditioner but none worked as well.
I was glad that i chance upon "herbal hair treatment" while googling. Herbal stuffs interest me, because it's natural and not chemical (call me old fashion thinking), i would prefer Traditional Chinese Medicine more than Western Medicine anytime.
I decided to give Bee Choo Herbal Hair Treatment a try since they have quite a few branches and Clementi branch is near to my work place, so i can head there after work.
Upon entering, greeted by all the staffs, i saw all the steaming machines were occupied. "Wow, it must be good since there's so many people" i thought. If you are not used to, perhaps the herbal smell is a little overpowering, it gets better or literately no smell upon subsequent visits when you're used to it. By the way, most of their customers "have an age", so you won't really get to see much youngsters like me. LOL!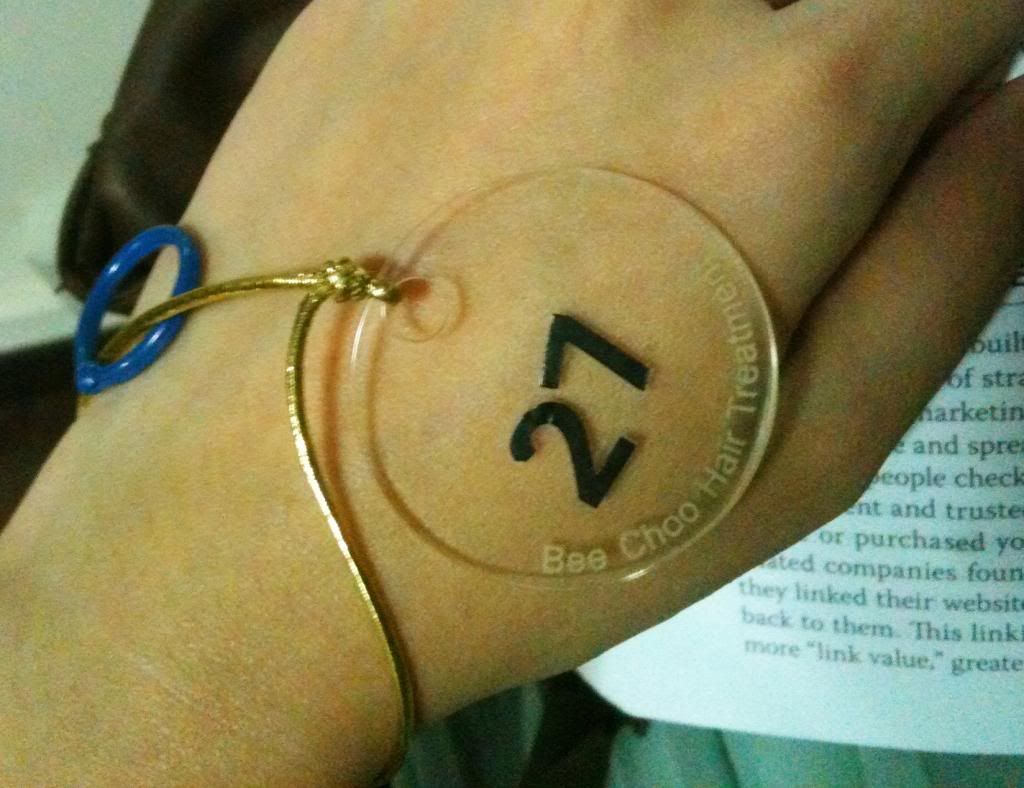 Make payment first and take a number, they serve base on first come first serve, so they recognize by the number tag.
If it's your first time, the staff will explain to you in detail the steps and what they are applying on your hair.
Hair tonic (ginger wine) will be first applied on your scalp to stimulate and open up pores during steaming in order to remove any impurities on the scalp and for the herbal ingredient to be absorbed.
Then, 100% pure virgin olive oil on your hair ends before steaming to ease out split ends, improve hair condition and shine texture.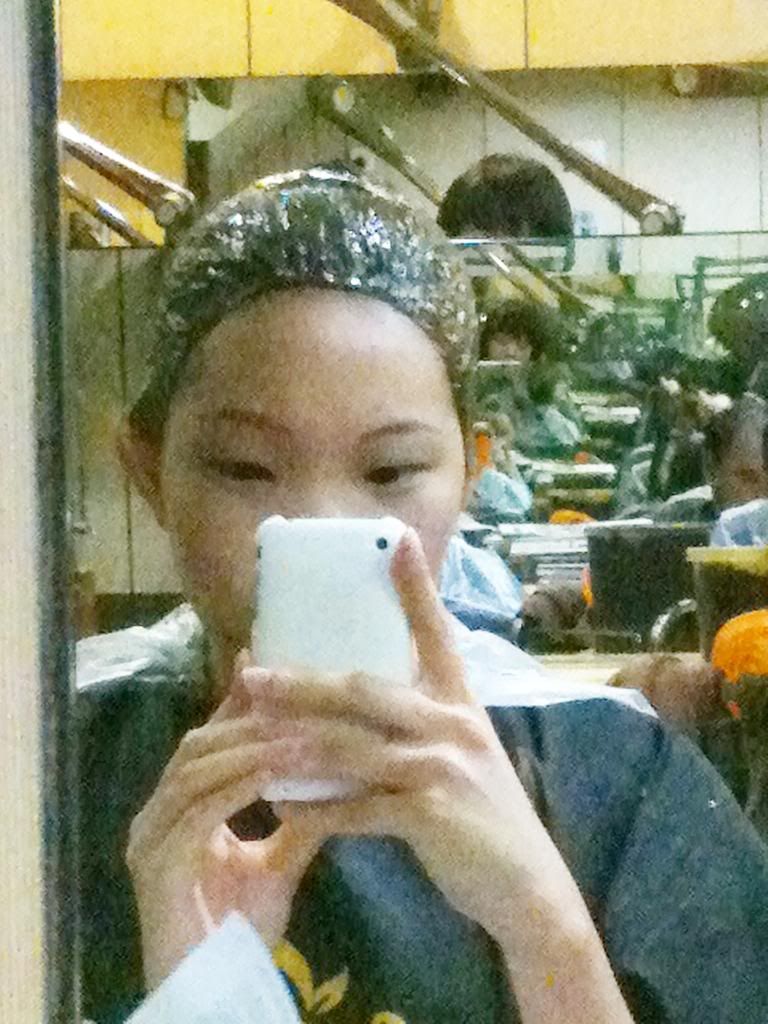 Here's where the important part comes – 100% chemical free Chinese Herbal Treatment will be applied directly onto the scalp and hair ends. They apply in very generous portion on the hair, it feels so worth it. Look at my hair, totally covered with the herbs. LOL!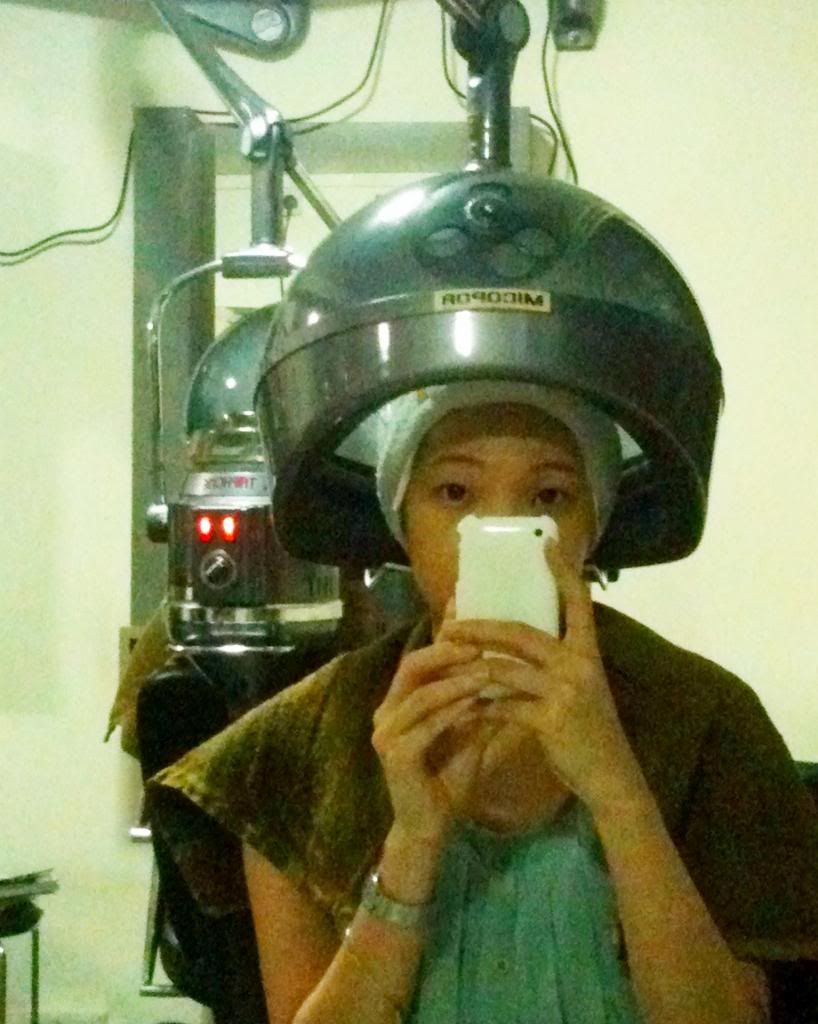 Then steaming for half an hour(?), didn't track the time, but it's quite long, so remember to bring some entertainment or read the magazines provided.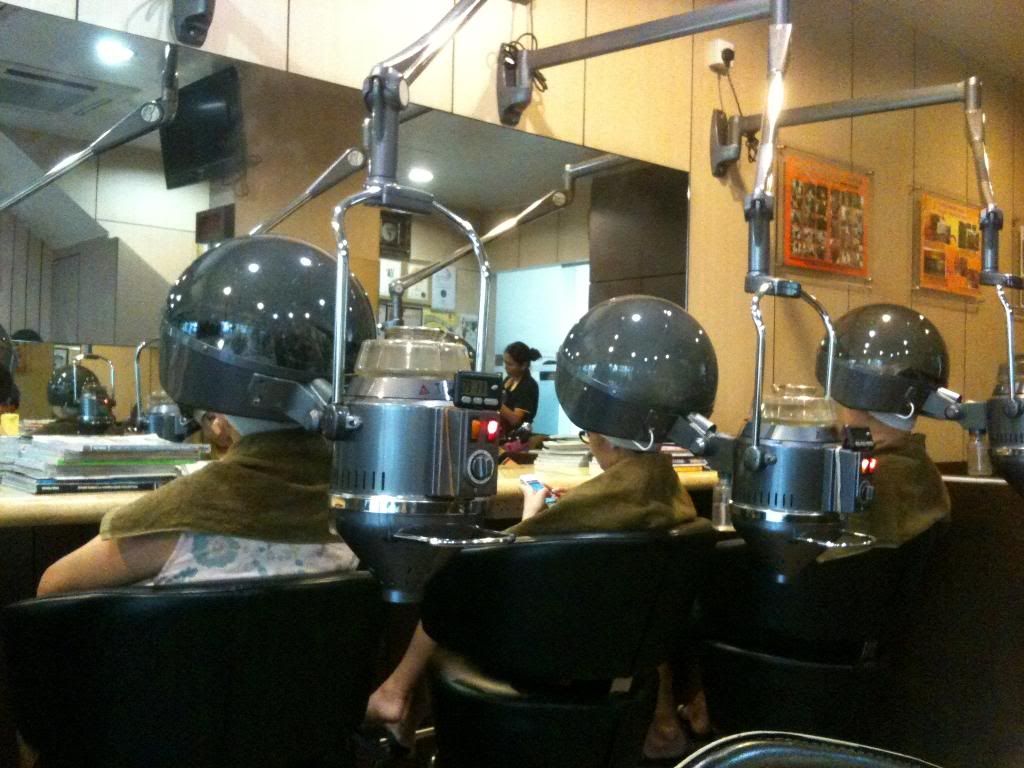 I was even more surprised when they directed me upstairs for steaming, two more rows of people were upstairs having their heads steamed. LOL!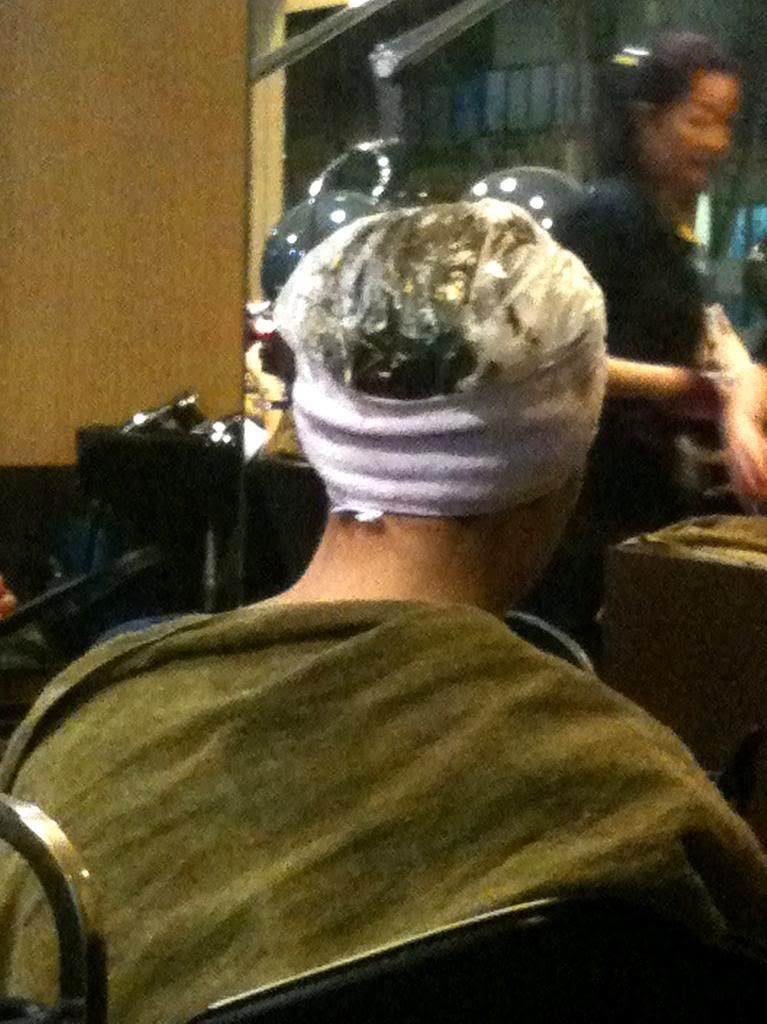 After steaming, while waiting for hair to cool down and our turn to wash. (yes, they wrap your hair up in plastic sheets for steaming, quite funny but probably best way to prevent leakage)
After washing, our hair will be blown partially dry, to allow better absorption of herbal paste as claimed by the staff. A little strange when u walk out of the salon with partially wet hair, but well, for the sake of my hair, it's ok to be unglam for awhile. FYI, your hair will smell like herb throughout the day and even the next few days, you will keep smelling it, but surprisingly when i asked people around me if they smell anything, they said no, so i guess it's probably just smell-able by yourself? haha
In total till now, i have went for 4 treatment for a period of two months and i'm pretty satisfied. My scalp does not itch as much, lesser bumps and lesser hair fall (still have, but lesser). Now i can run my hand through my hair, no dropped hair strands, or even so, it's just one or two strands. I'll just keep going once every two weeks for maintenance since it's really affordable as well, $40 for shoulder length hair, plus minus a few dollars depending on your hair length.
Share with me if you found your solution to hair fall as well! 😀
PS: Quick update on my Bee Choo progress.