This has got to be the worst flea i have ever participated in. Ever since the flea organizer moved from Scape to Lucky Plaza, we had no choice but to follow suit and business has not been as good as what we had at Scape. Heard that the lease is off between Scape and the organizer due to different concept and direction of the flea, Scape does not allow selling of preloved items anymore.
Well, it's my fourth flea at Lucky Plaza and i can say that each experience is getting from bad to worse. Our very first flea at Lucky Plaza was on a Saturday and that time we complained about getting no crowd (as the flea was relatively new at Lucky Plaza, furthermore on a Level 6.) and business was really bad, we didn't manage to cover our rental cost. Thereafter, we found out from other booth owners that Sunday's business is very good due to the off days of our foreign helpers.
So we decided to give it a try again and booked our second flea at Lucky Plaza on a Sunday. Sunday's business is definitely much better, however the crowd demographics were different from Scape. At Scape, there were more local young customers while at Lucky Plaza, there are more foreign adult ladies (as seen from photo below).
From what i observed, the customers at Scape do not mind paying for quality and pretty designs, while customers at Lucky Plaza are more cost-conscious and would not pay for items >$5. Therefore, your items have to be really cheap (dirt cheap literately) to attract them. Dresses sold at Scape for $8 – $10 can only be sold at Lucky Plaza for $5 max, with the need to entertain further bargains.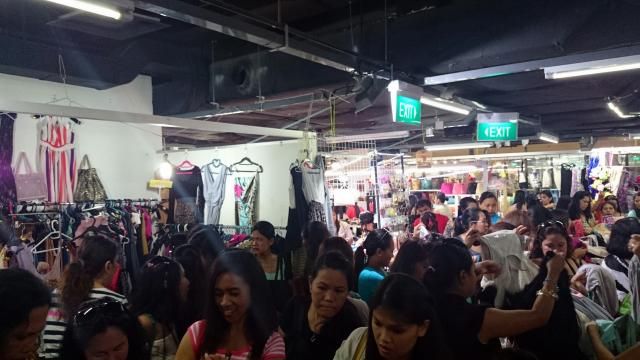 So why do i say that this time round's flea was the worst? The time stated on the opening hours of the booth is 1pm – 7pm. However, when we reached the place at 11.30am, the place was already crowded. We realized that most of the space were rented out to permanent stall owners, which results in tiny little spaces in the middle for all the temporary booth owners. We managed to find an empty booth right in the middle after combing the entire place while lugging our luggage and squeezing through the crowds.
The booth space given to us was horrible. It was not even enough for us to open up a luggage to empty our goods, not to say bending down without bumping onto other booth's table or people. Luckily we didn't bring a rack, there won't be any space to set it up anyway. I still can't forget the scene when Jas tried to open up her luggage on the table to empty her goods, a whole gang of customers rounded up the table and some even helped Jas unzip her luggage to take them out. I was totally squeezed out of the table. LOL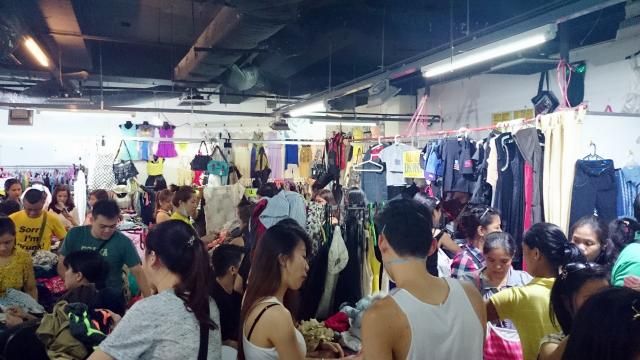 You might guess that we must have earned quite some amount, but you are so wrong! Despite selling a portion of our clothes, we did not manage to or barely cover our rental cost. The skyrocketed rental cost is also one reason why we want to boycott the flea. Sunday's rental cost is typically higher than other days due to the crowd and it has been on the rise. The previous time i came was on November last year, it was $100 per day, this time it has increased to $120 and i saw that the coming September's Sunday slot has already increased to $130! Rental cost at Scape was only around $55 if i'm remembered correctly.
Imagine the high rental cost + low profit earned from customers (i don't even know if the word profit is suitable here since a typical clothes is sold at an average of only $2) + minimal booth space, it seems like we are being squeezed dry by the organizer and customers for their maximum benefit. Not forgetting the stuffiness and dustiness of the place, some of us had to wear on masks!
If you ask me, i would say, stop wasting your time and effort, forget about having a flea here even if you just want to clear away your unwanted goods. The effort of travelling, lugging your goods to Lucky Plaza and staying in a small, stuffy and dusty place the whole day to exchange for a few penny is really not worth it.
By the way, if you happen to know of fleas at other places selling preloved items with good business, please do share with me!
Read my first flea experience at Scape